Jugendstil in Wien
Wien ist reich an Sehenswürdigkeiten um 1900, denn es war der geistige Mittelpunkt dieser Zeit.
Ob die Stadtbahn von Otto Wagner, die Nadelwehr in Nussdorf oder die Secession, die von den jungen Künstlern gegründet wurde, man trifft überall Bauten dieser Epoche.
Eine besondere Sehenswürdigkeit ist auch die Pflegeanstalt am Steinhof von Otto Wagner.
Haus Linke Wienzeile 38 / House Linke Wienzeile 38 / Maison Linke Wienzeile 38
Die Fillgraderstiege von Max Hegele gehört zu den vier schönsten Stiegen Europas.
Einige Kirchen seien an dieser Stelle ebenso erwähnt, wie die Borromäuskirche am Zentralfriedhof, die Heiligen Geist Kirche im 16. Bezirk oder die Friedhofskapelle im 14. Bezirk.
In Wien zeigt sich auch die Konfrontation dieser Zeit in der Kunst mit den Bauten von Adolf Loos, der gegen den Jugendstil war und den Beginn der Moderne markiert.
In jedem Fall lohnt sich ein Spaziergang durch das Wien dieser Zeit.
Majolikahaus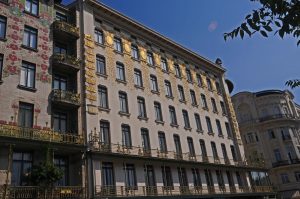 Fillgrader Stiege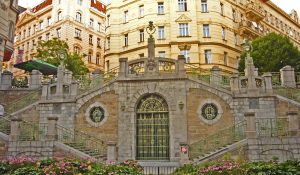 Art Nouveau
Vienna was richly decorated around 1900, it was the intellectual centre of Europe at this time. Everywhere you find architecture of this era, the city railway building of Otto Wagner, the weir in Nussdorf or the Secession museum, which was established by the young artists.
A special example of this showy time is the Steinhof hospital of Otto Wagner.
The "Fillgraderstiege" of Max Hegele belongs to the four most beautiful stairways of Europe.
Ruferin Othmar Schimkowitz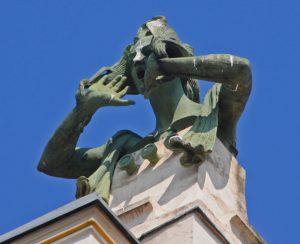 I have to mention some churches like the Borromäus church on the central cemetery, the church of the Holy Ghost in the 16th district or the church of the cemetery in the 14th district.
In Vienna you can see too the confrontation in art at this time by the buildings of Adolf Loos, who was against Art Nouveau and who marks the Beginning of the Modern Time.
A walk through Vienna of this time is definitely a must.
Art Nouveau
Vienne est riche de sites touristiques. Autour de 1900 Vienne était le centre intellectuel de cette époque.
Partout on rencontre des bâtiments de cette période, soit le réseau urbain de Otto Wagner, la digue de Nussdorf, où la sécession, qui a été fondée par les jeunes artistes.
Le sanatorium de Steinhof, construit par Otto Wagner, est un site exceptionnel.
Le Fillgraderstiege de Max Hegele compte quatre des plus beaux escaliers d´Europe.
Kirche von Steinhof / Church of Steinhof / Église de Steinhof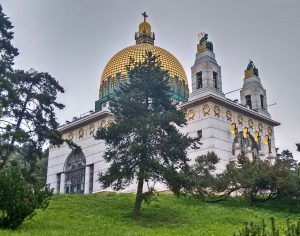 Je dois mentionner aussi quelques églises, comme l´église du saint Charles Borromäus au cimetière centrale, l´église du Saint-Esprit au 16ième arrondissement où l´église du cimetière du 14ième  arrondissement.
À Vienne on peut voir aussi la confrontation de l´art à ce temps par les bâtiments d'Adolf Loos qui était un adversaire de l´Art Nouveau et qui marque le commencement de la Moderne.
De toute façon une promenade à Vienne  est incontournable.
Naschmarkt