Gräber erzählen Geschichten
Um den Friedhof der Bevölkerung schmackhaft zu machen wurden Ehrengräber errichtet und werden erhalten. Persönlichkeiten wurden in anderen Friedhöfen exhumiert  und hier bestattet. Es gibt auch ehrenhalber gewidmete Gräber für die keine Grabmiete zu bezahlen ist, allerdings sind die Angehörigen für die Pflege verantwortlich. Eine Wanderung über den Friedhof ist wie lesen in einem Märchenbuch.
Udo Jürgens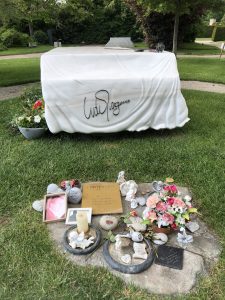 Hedy Lamarr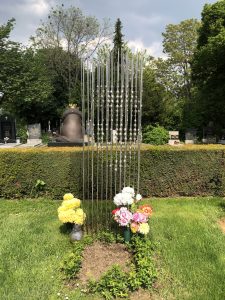 Tombs are Storytellers
Graves of Honour were installed to make this cemetery especially appealing. This practice is still being observed today. Celebrities were exhumed from other cemeteries and buried here. There are also honorary tombs where there are no cemetery expenses involved. But the respective families are obliged to maintain them. A walking tour of the cemetery is like entering a story book.
Les Tombeaux racontent des histoires
Des sépultures de personnalités ont été aménagées pour attirer les visiteurs. Ces tombeaux sont entretenus par la commune. Des personnalités importantes ont été exhumées  d´autres cimetières et enterrés ici. Il y existe aussi des tombeaux à titre honorifique pour lesquelles on ne paie pas de location, mais la famille est responsable de l´ entretien. Une promenade dans ce cimetière revient à lire dans un livre de contes.
Matthias Sindelar "Der Papierene"