Beethoven Museum
Das Museum wurde im November 2017 wieder eröffnet. Aus einer kleinen 40m ² Gedenkstätte im 19. Bezirk in der Probusgasse wurde mit 265 m² ein Beethoven Museum, das sich mit dem gesamten Werdegang des Künstlers beschäftigt.  Beethoven kam hierher um in der nahegelegenen Heilquelle Hilfe für seine beginnende Taubheit zu finden. Als er 1802 erfuhr, dass es keine Heilung geben würde, verfasste er hier sein Heiligenstädter Testament.  Die Lage des Museums in mitten von Gärten vermittelt ein romantische Flair und die umliegenden Heurigen laden zum Verweilen ein.
Beethofen Haus Probusgasse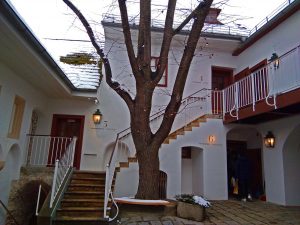 Beethoven Zimmer mit Blick auf die Heiligenstädterkirche / Beethovens room with view to the church of Heiligenstadt / la chambre de Beethoven avec vue sur l´église de Heiligenstadt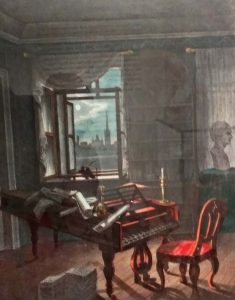 The Beethoven Museum
The museum was reopened in November 2017. The museum in the 19th district in the Probusgasse grew from a 40 m² memorial place to a 265 m² museum which covers all stations of Beethoven's career. Beethoven came to the nearby spa to find treatment for his beginning deafness. When he found out in 1802 that he could not be healed, it was here that he wrote his Heiligenstädter Testament. The location of the museum surrounded by gardens impart a romantic feeling and the nearby Heurigen (wine shops) beckon a visitor to linger and stay for a while.
Le Musée de Beethoven
Le musée a été rouvert en novembre 2017. Le mémorial au 19iéme arrondissement dans la Probusgasse  a développé d´une grandeur de  40 m² dans un musée de 265 m² qui présente le parcours complet de l´artiste. Beethoven venait ici pour trouver de l´aide dans la source minérale pour sa surdité commençante. Comme il a appris en 1802 qu´il n´y a pas d´aide, il a écrit ici son Heilgenstädter Testament. La position du musée entouré par des jardins transmet une ambiance romantique et les Heuriges autour invitent à rester.
War Beethoven schwarz? / Was he black? / Est-ce-qu´il était noir?