Das 21er Haus
Dieses Haus wurde anlässlich der Expo 58 in Brüssel errichtet. Es wurde von 1962- 2001 als Museum des 20. Jahrhunderts genützt und am 15.11.2011 nach Adaptionsarbeiten als Dependance des Belvedere wiedereröffnet und definiert sich als Museum für zeitgenössische Kunst.
Zurzeit laufen 2 Ausstellungen: Erwin Wurm und seine performativen Skulpturen, die eine gänzlich neue Form künstlerischer Gestaltung darstellen und Linda Christanell mit picture again, die für Weiblichkeit und Sexualität steht.
Fat House von Erwin Wurm steht für die Übergewichtigkeit der Gesellschaft und deren Ursachen, wie Konsumsucht und Überproduktion.
Das 21er Haus in Wien / The 21er house in Vienna / La 21er maison à Vienne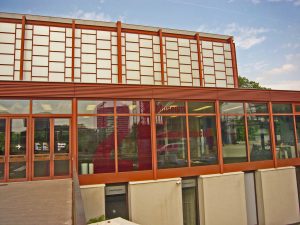 The 21er house
This house was originally erected in response to the Expo 1958 in Brussels. It was used from 1962- 2001 as museum of the 20 century and reopened after adaption works as a branch of the Belvedere palace and it is defined as museum for contemporary art.
There are currently 2 exhibitions: Erwin Wurm and his Performative Sculptures, which are a completely new form of artistic arrangement and Linda Christanell with picture again, which stands for femininity and sexuality.
"Fat House" from Erwin Wurm is inspired by obesity and its causes in society, it focuses on  consumerism and overproduction.
Museum für Zeitgenössische Kunst / Museum of Contemporary Art / Musée de l´Art Contemporain
La 21er maison à Vienne
La 21er maison est un musée de l´art contemporain. Le 15.11.2011 le musée a été ouvert.
La 21er maison
Cette maison a été construite à l´occasion de l´Expo 58 à Bruxelles. De 1962 -2001 elle a été usée comme musée du 20ième siècle et a été reouvert après des travaux d´adaptions comme dépendance du Belvedere et se défini comme musée de l´art contemporain.
Au moment il y a 2 expositions : Erwin Wurm et ses sculptures performatives, qui sont une conception tout à fait nouvelle d´un arrangement artistique et Linda Christanell avec picture again, ce qui signifie la féminité  et la sexualité.
Fat House d´Erwin Wurm signifie le symbole de l´obésité  dans la société et les causes comme la dépendance de la surconsommation et la surproduction.
Fat House von Erwin Wurm