Das Naturhistorische Museum in Wien / The Natural History Museum, Vienna / Le Musée d'histoire naturelle de Vienne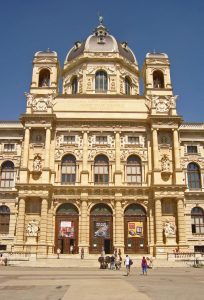 Das Naturhistorische Museum
Kaiser Franz I. Stephan von Lothringen, der Ehemann von Maria Theresia, erwarb im Jahre 1750 die Naturaliensammlung von Johann Ritter von Baillou mit ca. 30 000 Exponaten und schuf somit die Basis für das Museum. Es beherbergt heute neben kostbaren Edelsteinen, Naturalien, Tieren, Exponaten der Ur- und Frühgeschichte, die 29 500 Jahre alte Venus von Willendorf, die 36 000 Jahre alte Fanny, den zweitältesten Goldschatz und die größte Meteoritensammlung der Welt, sowie ein Digitales Planetarium.
Momentan widmet sich eine Sonderausstellung den Katzen. Es werden Groß- und Kleinkatzen von Cranach bis Klimt in Gemälden, Skulpturen und Präparaten ausgestellt.
Ausstellung Mai- Oktober 2017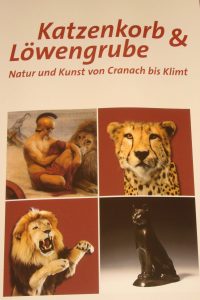 The Natural History Museum
In 1750 Emperor Francis I. of Lorraine, the husband of Maria Theresia, purchased the natural collection of Johann Cavalier of Baillou. It contained 30 000 exhibits and created the starting point of this museum. It proudly boasts today precious stones, natural produces, animals, exhibits of prehistoric and protohistoric archaeology. Significantly it also has the 29 500 years old "Venus of Willendorf" and the 36 000 years old "Fanny", this is the second oldest treasure of gold and the biggest collection of meteorites in the world. You can in addition find here a digital  planetarium!
At the moment there is a special exhibition dedicated to cats. There are exhibited every type of big and small cats from Cranach to Klimt in pictures, sculptures and other art forms.
Le Musée d'histoire naturelle
L´empereur François Ier de Lorraine, le mari de Marie Thérèse, a acheté an 1750 la collection d'histoire naturelle du chevalier Johann de Baillou qui contenait à peu près 30 000 pièces d´exposition et a créé la base de ce musée. Il abrite aujourd´hui outre des pierres précieuses, des produits naturelles, des animaux, des produits de la préhistoire et paléontologie, la venus de Willendorf d´un âge de 29 500 ans, Fanny d´un âge de 36 000 ans,  le trésor de l´or le 2ième plus vieux et la plus grande collection de météorites du monde, ainsi qu´un planétaire digital.
En ce moment une exposition spéciale est dédiée  aux chats.  Des grands et petits félins sont exposés de Cranach jusqu´à Klimt en tableau, sculptures et préparations.